Corlet Logistic, the Group's logistics department
Since 2009, the logistics department of the CORLET Imprimeur 360° group has been located in Athis-Val-de-Rouvre. It provides multiple services to its customers. Specialising in order preparation and parcel dispatch, Corlet Logistic ensures perfect traceability and offers storage with the provision of a dedicated space.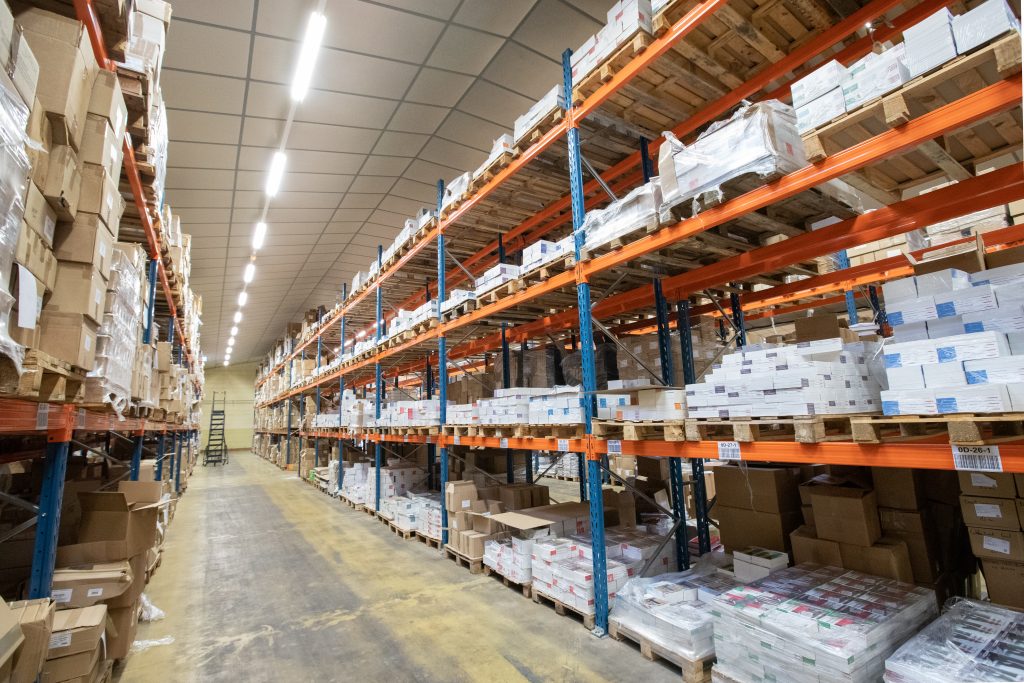 This service is a real complement for customers who have their products printed on our presses, but it is also a full service for others.
Originally, the logistics department was created to meet the needs of a single client. Today, in addition to this client, dozens of clients benefit from a secure space to store their goods in the heart of Normandy Switzerland.
Corlet Logistic is less than three hours from Paris and less than one hour from the group's printing plants and mailroom.
Logistics and storage for all types of customers
Customers who store their products in our warehouses print their books at Corlet Imprimeur and Corlet Roto, but also at other companies. Some of them are not involved in the printing or publishing world and use our logistics service. Corlet Logistic is able to store, prepare and dispatch many types of products on its premises. For example, POS material or any other item that does not have a use-by date or specific temperature constraints.
This department is also responsible for the shipment of products on its premises. This can be done on a unit order basis or in bulk. The unit shipment can be customised to suit your specific needs and rate of distribution.
The customers of the logistics department can also entrust us with the management of their magazine subscriptions. We are experts and perfectly equipped to manage their customers' orders on a case-by-case basis.
Linked by an online interface, we receive orders in real time, which are then prepared in our warehouses. They are then sent by post or by another specialised delivery service.
Would you like to see inside the Corlet Logistic premises? Watch the video below or come and visit us in Athis-Val-de-Rouvre.