Interview – Hervé LE MOYNE, Industrial Director
We interviewed Hervé LE MOYNE, Industrial Director of the Corlet Imprimeur 360° Group. In this interview, he tells us about his career path that led him to his position, but also about the Group's know-how, which extends far beyond printing itself. Indeed, from the beginning of a printed project to its storage and delivery, the Corlet Group has the necessary skills for the life of your printed document.
No time to read the article? Listen to our podcast on Youtube (French only).
Hello Hervé LE MOYNE, you are the Industrial Director for the Corlet Imprimeur 360° Group, which includes several companies. Can you tell us how you arrived at this position?
"Hello, I arrived at this position after 30 years of work in the same company, starting with a mission entrusted to me by Charles CORLET, that of taking care of the implementation of an investment which included a part of micro-computing. I won't tell you how I came to work for the company, but Charles Corlet wanted me to become the future technical director, even though we hadn't reached that point yet."
So it was with a year of university studies in Economics and a desire to work on tangible things that Hervé LE MOYNE arrived at Corlet.
Trained by Mr Michel CORLET, he learns the trade through intensive training at the AFI, a graphic arts school in Rouen.
It is not just a training course but rather private lessons, as he is the only student for a whole team of professionals. In addition to this training, all the company's production managers train him. Pre-press, printing, finishing, he will go through all aspects of the job in just one year of work experience.
"I learned a lot. You could say that it was truly mind-filling. I still interact with the professionals who taught me. It's quite fun, quite friendly."
And as Hervé explains, it was quite a journey to get to the position he holds today. When he arrived, Mr Michel CORLET, Charles CORLET's brother, was Technical Director. Interested in computers and already passionate about them in his spare time, he began to develop tools in the company to improve communication between departments and to set up computer-based production management. Before that, he became a Key Account Manufacturer for some of the company's major clients such as Les Éditions WEKA and Les Éditions Tallandier with, in particular, the magazine Historia.
The arrival of IT in the Corlet Group
It was in 1994 that IT really took hold at Corlet. Purchase of a server, PCs, setting up a network… A daring gamble for which Mr CORLET trusted Hervé. It was at this time that the very first Bull PCs were installed and the database chosen was "ACCESS", freshly released by Microsoft.
"I can still see the presentation, everyone was afraid to have a computer in their office. The workshop managers were saying "what am I going to do with this? There were some epic moments with the stories of the mouse where I think that some people would have needed a table about 5 metres long for them to be able to go between the top and bottom of the screen because they didn't know how to manipulate it, so it was quite funny."
Hervé LE MOYNE perfected this set-up and saw the project through to the end. He was helped in the home stretch by Babak MOBASHER, who had just joined the company as a computer scientist.
After that, he became Head of Manufacturing and when Michel CORLET left, he became Technical and Method Director, a mixed position created by Philippe FREULON, currently General Director of the company, in order to keep the experience of Mr. LE MOYNE in the manufacturing office, while adding the technical part. He started to get out of the daily routine and take care of the investments thanks to the hindsight on the functioning of the company, the workshops and the production. This is how the relatively recent role of Industrial Director came into being, since it dates from about five years ago.
Can you explain what this position is all about?
This position is responsible for ensuring that the production of the orders entrusted to us can be developed in the best possible way in terms of quality, deadlines, productivity and profitability. This includes organisation and, consequently, planning, but also investment and supply as well as staff organisation.
Hervé Le MOYNE is therefore in charge of orchestrating the production process for the three sites, even though he admits to having difficulty extracting himself from the "parent company", Corlet Imprimeur.
"There is a kind of attraction"
He therefore looks after Corlet Roto and Routage in addition to Corlet Imprimeur. The Logistics department, on the other hand, is managed by another person.
Did you have any other professional experience before starting your career with Corlet?
"You, Hervé, are a Corlet baby!"
That's how the Group's former Human Resources Director and friend of Hervé LE MOYNE described him. And it seems particularly appropriate since he has only worked within the Group. Being immersed in the history of the company for more than 30 years gives him a detailed knowledge of the company but also of the evolution of the markets. His career path therefore began at Corlet and, although he still has many years ahead of him, he intends to remain there and continue to develop the Group.
"The journey is indeed that Corlet. For the moment, it's been going on for over 30 years!"
What are the problems you encounter most often in your work and in the printing profession in general?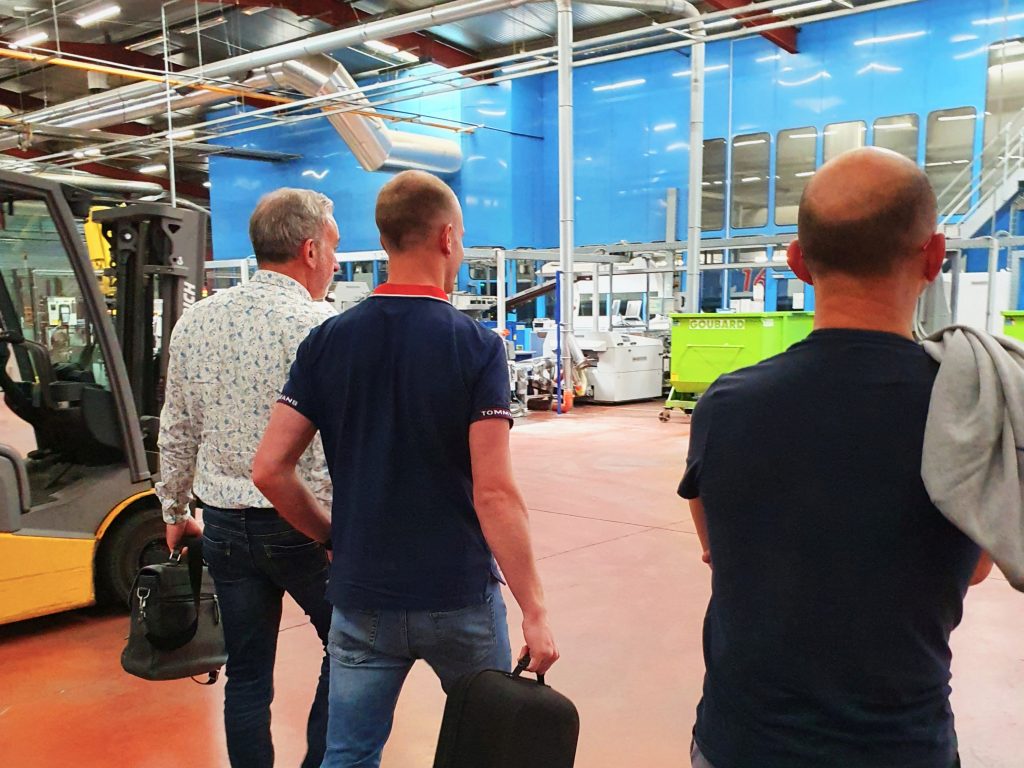 Being a Corlet baby has its advantages, but not only that. Because of all the hats he has worn over the years, Mr LE MOYNE is called upon to deal with many issues. The difficulty is therefore to detach himself from his past functions in order to devote himself fully to the current missions of the Industrial Department.
"As soon as there is a problem, people come to see me out of habit. I try to solve the problems of the people who come to me by reflex."
At Corlet Imprimeur 360°, we are experts in several fields. Can you list them for us and explain the factors that make this expertise possible?
"In redefining the Corlet Imprimeur 360° group, we wanted to refocus our activity on what represents the history of the company. That is, books, periodicals, catalogues and magazines. As long as we have a printing machine, a pre-press, a cutter, and so on, we can make many products."
We decided to focus on what we are best at. Indeed, we are renowned in the areas mentioned above by Hervé. Sixty years of history have been devoted to these products and this allows us to be more competent, more competitive.
"Our history proves it, because people come to Corlet for our expertise in paperback books, bound books… There is a strong image of added value in the products we make."
The choice made by Mr. Charles CORLET at the outset to develop the three printing plants in silos was intended not to put the Group as a whole in difficulty if one of the innovations developed did not work. Today, the technologies used are converging and digital and offset have never been so close.
That is why this year Jean-Luc CORLET decided to break down these silos by merging Corlet Numeric with Corlet Imprimeur. This has enabled Corlet Numeric's activity to be refocused within the same framework as that of Corlet Imprimeur and Corlet Roto. An industrial logic that is extremely complementary.
"Being a printer is not like a supermarket, you don't sell everything. We could, but we preferred to specialise. The spectrum is wide enough to encompass all our know-how. It's a choice that was validated by Mr Jean Luc CORLET and I think we made the right choice."
How is the printing industry doing today?
Like all industries, Corlet Imprimeur 360° has been through the health crisis and it has had a significant impact. But, taking a step back, Hervé explains that in some ways it has been unexpected for us, as a book printer. Where books were in a state of decline before the crisis, there has been a revival of interest in black books. After a period of stagnation or even a slight decrease in activity, we have moved on from the crisis to quite exceptional levels of workload in this field.
"This crisis has given us a renewed taste for reading, for books."
The crisis has also helped us to counter foreign competition. Indeed, publishers have refocused on Europe and sometimes even on France in a desire to refocus and be more ecological.
"Our commercial printing sector has been shaken up, obviously, because we are also attached to the activity of our customers, especially those who make catalogues. As they could no longer sell, this slowed down our production. We can say that books and periodicals enabled us to maintain part of our activity during the crisis. However, we did not manage without impacting the Group, as our activity decreased by around 20% during this period."
We're going to talk about the supply of raw materials, which remains complicated at the moment. What are the impacts? And what solutions have you put in place for customers?
"It is indeed very complicated", replied Mr LE MOYNE. He explains that the complexity comes from the raw material, paper."
"We have a purchasing team that works miracles every day. This means that we manage to get supplies today, despite the very long lead times announced by the paper manufacturers. In the field of sheet printing, I don't know how we manage, but we manage! Of course, the vigilance of Mr. CORLET is also a factor. As soon as he can capture a batch of pallets, we take precautions. It's a complex day-to-day management task for the people in the supply and purchasing office. Sometimes we have to offer another paper, similar to the one we want. Customers, in need and understanding, accept to change their project a little."
At Corlet Roto, we occasionally can't take on a case because we don't have the paper available quickly. But on the whole, we manage to deal with the situation and find an alternative.
On the other hand, the impact on pricing is quite significant and our sales teams try to be as educational as possible to explain what is happening to us.
A lack of paper yes, but not only:
"The big surprise came at the beginning of 2022, with the difficulties in supplying aluminium plates, because paper is essential, but in the offset process, if you don't have an aluminium plate you can't print. It was extremely intense, and through some pirouettes I was able to find solutions with another supplier, we managed to limit the damage, but it is still very fragile."
Everything comes in dribs and drabs, it's complicated. It's true that we didn't see that one coming.
The price of aluminium plate has risen by 25% in three months. Although the other raw materials are not at risk of breaking down, their prices have also increased. The price of pigments, for example, has risen by 20 to 40%. This can be explained by the new environmental impact policy of the Asian industrial park, but also by the rise in oil prices (Source: Sharp rise in prices, ink manufacturers explain (graphiline.com)). Not to mention the cost of transport, which has increased at the same time as the price of fuel…
Hervé LE MOYNE nevertheless remains positive. Indeed, for once, the situation is global and the whole world is waiting for it to stabilise. Foreign solutions are therefore no more advantageous than a French solution.
Do you have any innovative projects in the pipeline at Corlet Imprimeur 360°?
Although caution is the order of the day during this period of crisis, the Corlet Imprimeur 360° Group has not been idle. Thanks to close collaboration with various suppliers, there are surprises in store for 2022, as you have already discovered the Canon VpiX, but this is far from over for several entities of the group and in several technical fields. All we can say is that performance will be at the rendezvous associated with a consideration of current environmental issues!
As far as recent innovations are concerned, the Corlet Group is hitting hard with the launch of Rapidbook. This is a business-to-business web-to-print principle open to publishers that allows them to order from 1 to several hundred books and to be delivered within 5 working days after printing.
After a slow start, while the final details were worked out and the process was streamlined, the "Book of One" is now possible. Thanks to Rapidbook and the other projects, the Group is preparing to be able to produce from 1 to 50,000 copies.
Another project is under development, this time of an organisational nature, the OR (=Golden in French) project for Organisation and Reactivity. The aim? To facilitate and accelerate the production of orders. This project involves many departments, from upstream production, through sales and quotation, order processing, but also the manufacturing office, right up to production. This is an ambitious project that will enable the Group's teams to save time and be more responsive.
Let's finish with a few sentences that characterise the services offered by Corlet 360° Printer.
The number chosen, 360°, says it all. We are not just printers, the printed product is the centre of our activity. Around that, we know how to distribute, store and ship it. The Group's subsidiaries support customers beyond production, for dispatch, through our skills in routing and order preparation, and stock management of printed products. For certain Parisian customers, for example, storing at Corlet Imprimeur 360° – Corlet Logistic makes perfect sense. Indeed, being close to Paris and having lower storage costs are two significant advantages.
"Beyond the know-how of manufacturing a printed, bound or folded product…. It also means knowing how to make it live once it is on the pallet. It doesn't stay on the pallet, we're going to take it where it needs to go to satisfy the needs of the end customer."
Other upstream services, on the trade side or as mentioned earlier in this article, tools such as Rapidbook can empower customers. They can autonomously manage the production of their books. New tools are being developed that will allow, for certain types of products, to produce their estimates autonomously.
"I think that we can see all of the Corlet Group's services here. Upstream, taking care of the customer and after printing, even if it is our core business, our know-how. It is there and the quality of the product is not to be demonstrated any more."
With us, a customer has an all-in-one service.
"That's it, I'd even say it has an on-demand service."
If he wants to be accompanied because he has a more elaborate product, he will have the contact of a manufacturing agent who will be able to help him, and of a designer or a salesman before his order. Despite the possibility of ordering online, we will always maintain this classic circuit because it is essential to be able to accompany a customer in the realisation of his product thanks to our technicality and our know-how. We are and will always be there to help them, guide them, and prevent them from making mistakes.
If he wants to work and order independently on simpler products and navigate in the Corlet world, he can do so and will be accompanied in any case.
Thank you.